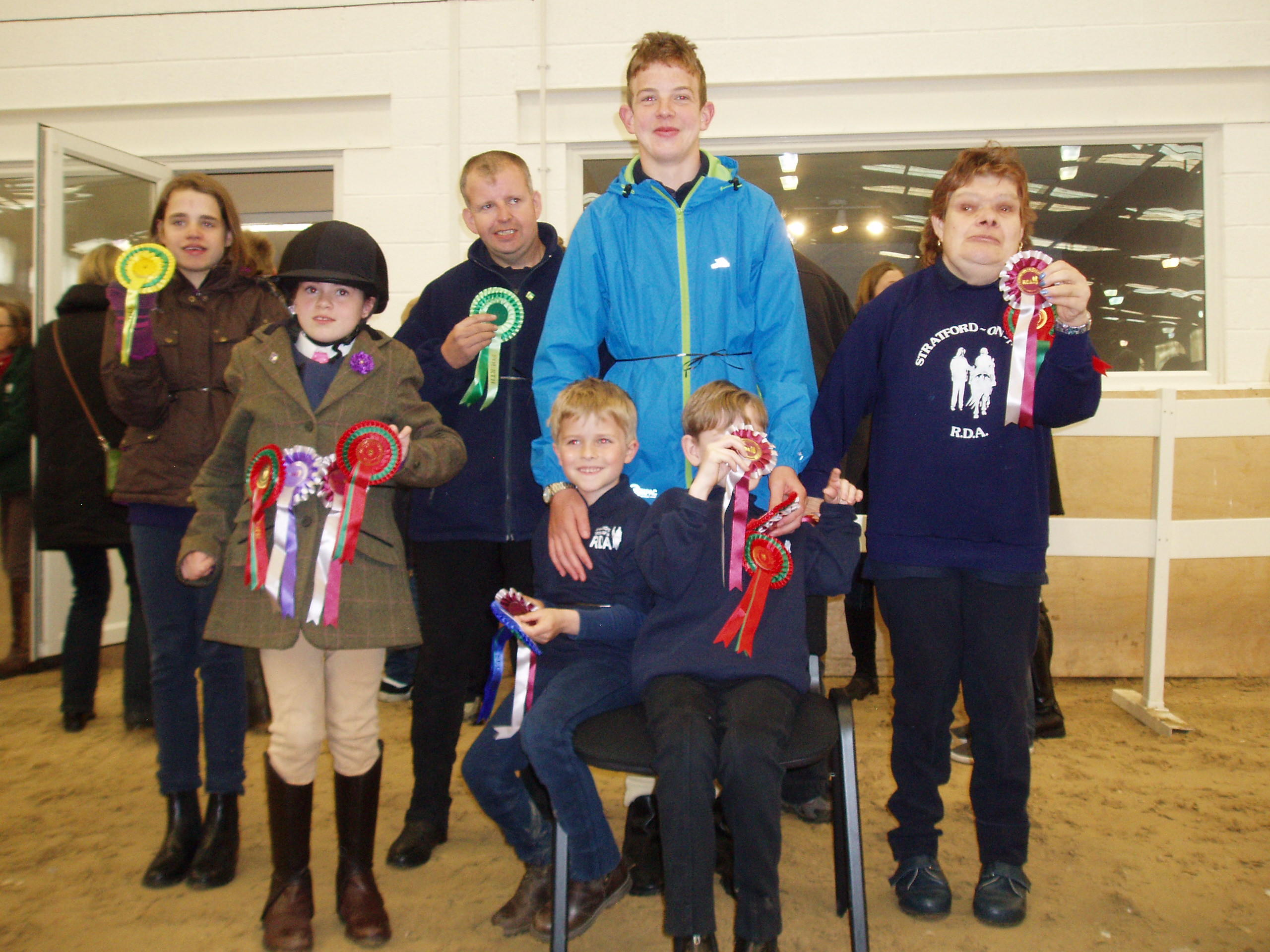 We were full of excitement again for our riders as we turned up in force at the West Mercia RDA Regional Qualifiers yesterday.  Our volunteers had polished our ponies, Keira and Marco, and Badger had never looked so white.  We were sure that Liz had used chalk!  After an early start from the stables they arrived in good time to have a walk around to see what everything looked like.  Thrilled to be out and about.
Our first riders were entered in the Dressage classes.  Jo desperately wanted to better her score from last year and we all had everything crossed.  Badger must have known and was as good as gold, bringing her round to gain 2nd place.  Their faces showed determined concentration and with a score of 66.47% more than enough to qualify for the RDA National Championships.  Isabella, riding Henry, also qualified in her Dressage class gaining equal 1st with 66.11%.  Isabella was competing in her first RDA competition and looked so confident.  Although riding at a different yard, she has chosen to ride under our Group umbrella.
Now it was the turn of our riders in the Countryside Challenge.  Mostly in different classes, Leo rode well on Marco executing the gate at the end so well and gained a first with 72.5% and qualified.  First time for Jack, but you would not have known.  The apple wouldn't stay in the bucket first time; however he gained a 2nd with 81.5% and qualified.  Isabella rode a lovely round and gained a 1st with 67.75% and qualified.  Charlotte never stopped smiling on Keira and was so proud of her 3rd rosette and score of 77.25%.  This was a tough class with a lot of competition so unfortunately, she was pipped at qualifying which was a shame.  Jules had also entered for the first time, she hasn't stopped mentioning it for weeks!  She did so well with her steering and came 1st with 69.5% and qualified.  For Neil, Badger decided he wouldn't behave, which was such a shame, but Neil battled on and gained a score of 61% coming 4th.  The last rider up was Matthew, who we decided to change from Badger to Keira.  Keira behaved impeccably as Matthew rode completely on his own.  With a score of 69.25% he gained a 1st and qualified.
A quick turn around and onto the show jumping.  This was not a qualifying class so riders could relax a little.  Different classes again depending on age and ability and didn't they do well.  Isabella and Matthew came 1st in their unled classes with scores of 84.5% and 78%.  Charlotte, also unled came 2nd with 64%.  Leo and Jack in the led class came 1st and 2nd with 72.5% and 70.5%.  Jules came 3rd in the adult led class with 69% and Neil in a tough unled class came 5th with 75%.
Not one rider under 60%!  The presentations showed some very proud and happy faces on riders, parents and our volunteers, especially on Jo who we had kept from knowing her position until it was announced.
And it didn't stop there!!  In the Arts and Crafts class, Henry gained a 1st with his picture of a rainbow coloured pony and his picture qualified for the RDA National competition at Hartpury.  Chris came 1st with his picture of his mount Moley and Neil and Lisa with their large watercolour of two ponies came 2nd.
What a day!  A real triumph for 'Team Stratford'.  Thank you for all your hard work.  We all went home with very big smiles.