In the run up to Christmas we enjoyed two lovely parties.  The Children's party was very busy.   Father Christmas joined us to give out presents and sweets and The Great Barloni, otherwise known as Tim, entertained us with his magic tricks and his collection of animals, who were kept out of mischief by the shouts of the children!  Lovely!
Hazel kindly opened up her house for our party for the adult riders once again which was made special by the decorations in her house and conservatory, mulled wine and mince pies.  A big thank you to Hazel and a lovely start to Christmas which was enjoyed by all.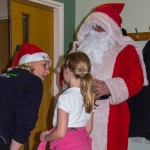 We would also like to thank the Kenilworth Lions who generously donated money to pay for all of the riders' presents of new riding gloves and chocolate and Rugby Rokeby Lions for lending us Father Christmas.
We have started our riding sessions this year, albeit a bit wet, and look forward to a healthy and enjoyable year.  Apart from a few sniffles, the ponies are now well and raring to go.  The stables have a fabulous new outdoor school which is allowing us to continue to ride outside if the weather permits.  It is also much bigger than the indoor arena giving us more scope for sessions such as showjumping and the opportunity of longer, straighter 'trots'.
Here's to 2014 and all that it can bring!  New riders, new volunteers and greater opportunities.