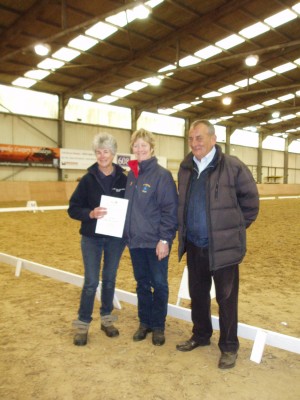 Our congratulations and thanks go to Isobel Ollis who has just received her badge and certificate to commemorate her 25 year voluntary service to RDA.  The presentation was made by our Regional Chair, Celia Baker at the West Mercia Regional Qualifiers on May 20th.
Isobel has predominantly helped with the children's sessions on Tuesday afternoons and will be remembered by many over the years for her words of encouragement.
However, she has not only served our Group but has also been a huge asset to the Regional Fun Day and Regional Qualifier event organisers by coordinating all the entries, results and rosettes.
Thank you so much Isobel for your dedication to RDA.