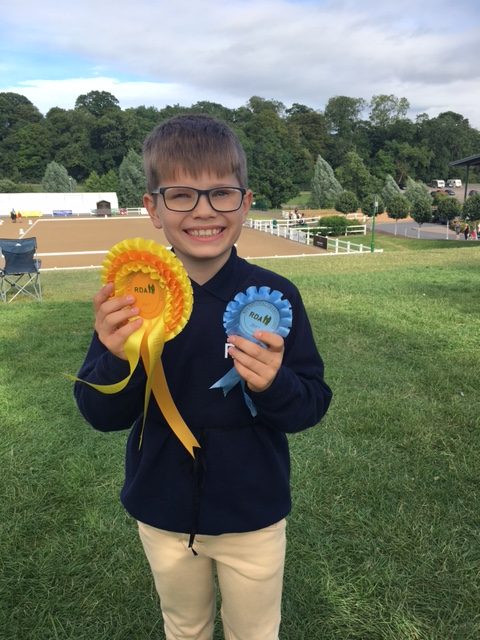 Once again the well-oiled machine that is Team Stratford swung into action.  Three dazzling ponies arrived at Hartpury on Friday evening to be met by our hard-working volunteers, who were assisting with running the event as well as looking after our ponies. On Saturday Jules was first to go. Kiera was on a mission – I could hardly keep up! I was really impressed that, despite the unsettling start, Jules remained positive &  focussed on the rest of the course.  This was reflected in the good marks she received for her riding from both the judges. Well done Jules.
First-timer Sophie took it all in her stride. Once again Kiera was keen to get on and Sophie rode with tact and focus, to come 5th. It was also Alfie's first time at the Championships and Sasha guided him round the course, to produce an excellent round and be placed 4th. A real achievement for our Group, to have two riders in the top five in the country for the Independent Countryside Challenge class.
Then it was the turn of Marco and debutant Lewis. They produced a beautiful round, scoring a massive  90.75% to come 3rd in their class. A brilliant performance against very  stiff opposition. Isabella and her pony, Cookie, had a busy weekend.  On Friday evening they competed in the new showing class. On Saturday Cookie coped well with his first time at the countryside challenge. He was more at home in the Dressage arena to win third place.  They also were second overall in the Best Turnout.
A good day all round. At the prize giving our winners were really excited to receive their rosettes from Paralympian Ricky Balshaw. Several of our riders also proved their knowledge of horse care. Sasha and Isabella achieving distinctions in the quiz – Isabella scored an amazing 99% ! All our ponies were beautifully presented and scored more than 80% in the best turnout – A huge well done to everyone who grooms, washes, cleans tack and look after the ponies throughout the year.  As one of the smaller RDA groups,  I'm really proud of the performance of all our riders and ponies at National level. This is entirely due to the skill, dedication & support of everyone involved with our Group, in whatever capacity. It wouldn't happen without you – thank you  Karen – Group Coach