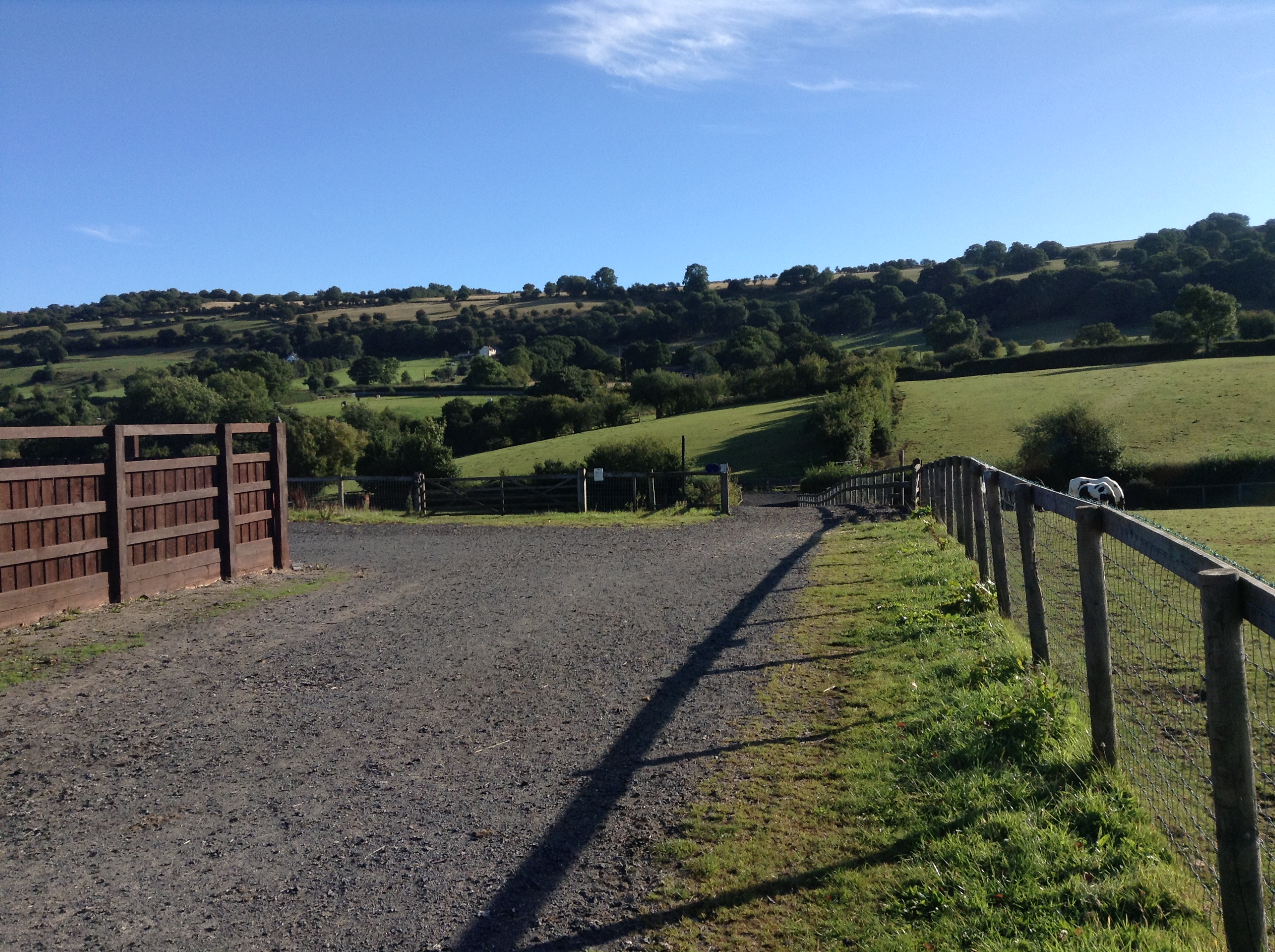 For a third year, 5 of our adult riders, Neil, Chris, Max, Jo and Jo along with 15 parents and helpers relocated to the Clwyd Special Riding Centre near Wrexham for a 5 day break.  On arrival we were welcomed by Lady Gladstone, its benefactor, who kindly gave us a cake.  Immediately, with jodphurs, hats and boots on our riders were introduced to their mounts.  Jo P, fell in love with Hamilton,  Neil and Puffin wanted to bring Mr Harvey home, Chris looked good on Benson, Jo W developed a rapport with Ben and Max found that Marsala definitely wanted to be at the front!
Friday morning an early rise and off we all went to catch the ponies from the fields.  What a lovely view but the weather turned out not to be kind.  After grooming and tacking up we managed a ride before lunch and a show jumping lesson, but 'rain stopped play' for a while after lunch.  Cleaning tack was the best option but not all were that enthusiastic!  That evening saw us barbeque indoors – well cooked in the oven!  Followed by a rather different game of table tennis.
Saturday, up with the lark again and when all were ready we went on a lovely hack along a disused railway track escorted by Kiri, one of the stable staff.  A new ride for us, going through lovely countryside and a wildlife park, with dog walkers and hikers along the way.  After lunch following a lesson indoors in figure of eight steering and off out round the tracks again working up an appetite for our dinner at the local pub.
Sunday and time for Best Turned Out competition.  Each team did a sterling job with rosettes won for most imaginative, best tail, best front end, best overall and the rider who had worked the hardest.  Riding out around the tracks again was a joy although maybe some of the helpers were flagging slightly when it was suggested going round twice!  Wales is a little hilly.  Mounted games followed after lunch and tack cleaning again!
What a treat to have a huge Sunday roast which resulted in  very noisy and lively table tennis games!
Monday morning came and everyone was a little subdued knowing that it was almost time to go.  After another lovely ride in bright sunshine around the tracks and we said a sad goodbye to the horses.
We all enjoyed ourselves so much, what a great team effort.    Thank you to all the helpers.  Special thanks go to Karen our instructor for organising the lovely rides, Jo who did all the admin and the catering team, especially Sandra, Neil's Mum who did all the planning and shopping.  Here's to 2014!