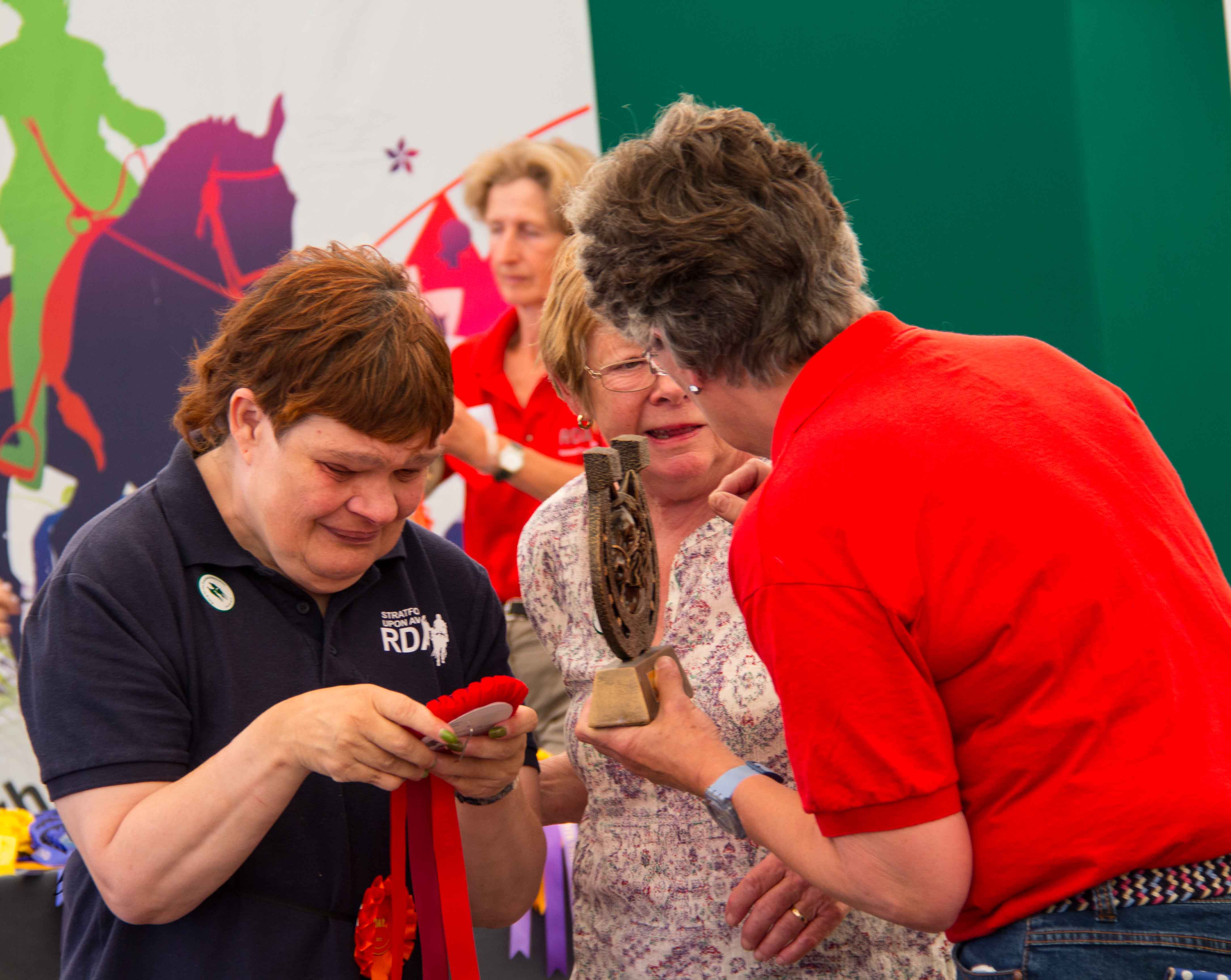 Wow, 'Team Stratford' has done it again!! After weeks of practicing, the weekend was here. The tack was cleaned, boxes packed and on Friday 17th July, Badger, Keira and Marco were shampooed and were sent on a lorry to Hartpury College.  There they were met by Group volunteers, already hard at work helping steward the event which was already underway. After a rest and settling into their stables, they were taken out for a walk and a munch in the cool of the evening.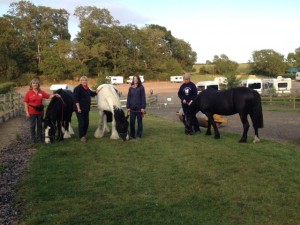 Alarms at 6am on Saturday and our volunteers were up giving them breakfast and a final brush and Liz plaited Badger's mane and tail after giving him yet another bath! Then Karen and Puffin arrived ready to tack-up and wait for our riders.
First up was Jules on Keira in the Countryside Challenge senior class. It was her first time at the Championships and she was so excited but settled to concentrate very hard negotiating the obstacles well leaving Karen and Puffin with very little to do. So well in fact, that later on she learned that she had been placed joint 1st and become a RDA National Champion. She hasn't stopped smiling yet!!
Leo was next on Marco and rode exceptionally well gaining 82.75% and placed 4th in his Junior class. His steering was superb and he was really pleased to gain much higher marks than last year. Jack on Marco was also taking part for the first time which was a huge achievement for him. He was in a different Junior class and rode well showing great control. He was also placed 4th with 78.25%.
Jo was next riding Badger.   It was also her first time and faced stiff competition in the Dressage Grade 1 class. Both horse and rider looked very smart and Tom and Liz, Badger's previous owners, were thrilled to watch them perform their Dressage test. From carriage horse to Dressage, quite an achievement for Badger! They were relaxed and showed a harmonious team. We were all very proud of their performance. They didn't make the rosettes but scored an admirable 60.5%.
After lunch it was Matthew's turn in the Countryside Challenge Independent class. Keira went well for Matthew and they negotiated the obstacles with a couple of extra turns but achieved a high score of 75.75% gaining Matthew 6th place. Well ridden Matthew, off the lead rein and on your own is a challenge which you overcame.
Keira and Marco were entered into the Best Turned Out, where tack, pony and rider were scrutinised for cleanliness and presentation and gained 85% and 88%. A big thank you to their grooms! They shone and no one noticed the boot polish! (only joking!)
Back in the stables, the ponies waited patiently for their lorry to arrive and the long awaited field. They had been a credit to us and so well behaved. Then Badger thought his girlfriend Keira wasn't coming with him so nearly flattened Liz coming back off the lorry to look for her!!  We thought it was too good to be true!
On Sunday, it was the turn of Isabella on Henry. Isabella is coached at Rookery Farm stables but is registered with us as an independent rider. Isabella took part in the Combined Training by riding in the Countryside Challenge Junior class and Dressage. Henry sparkled and so did Isabella's hat. They looked like they had been sprinkled with fairy dust. She gained 66.6% in her Dressage and 72.25% in the Countryside Challenge brining her combined score to 69.43% and placing her joint 2nd. An amazing result for her first time. She also achieved 89% in the Horse Care and Knowledge competition!!
The various prize giving ceremonies were emotional, especially for Jules. 'Team Stratford' had had a tremendous weekend, not only our riders and their results, but our amazing ponies and all of our volunteers involved on the day and everyone involved in getting our riders prepared beforehand who never flinch at lugging equipment or think about offering their time. We are so proud of you all and thank you for being part of the Group.