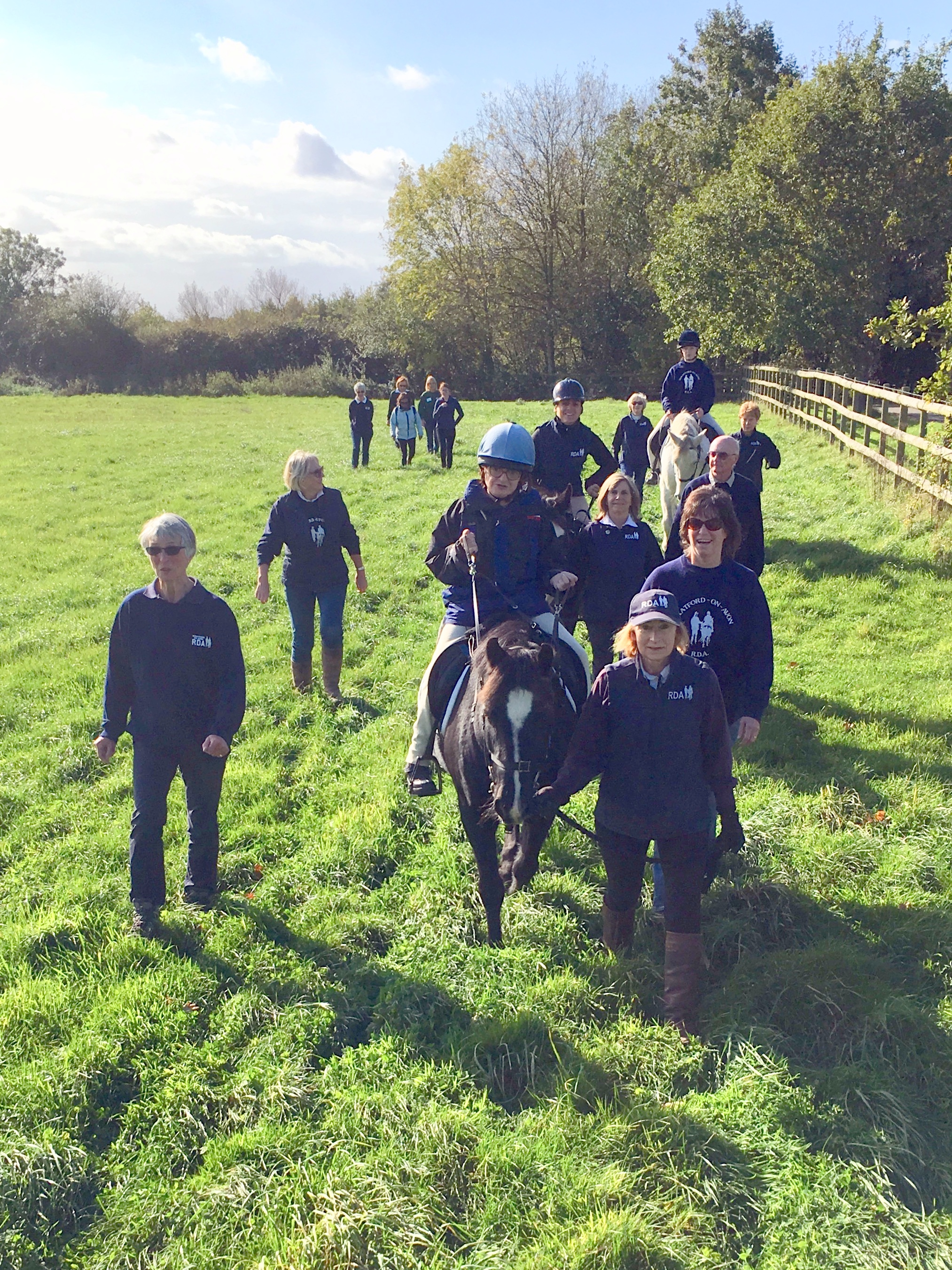 Riders, Sophie, Jo and Max and their teams of helpers joined Sam Orde, RDA UK Chair, on her last BIG RIDE on Tuesday 17th October.  What a special treat! Special thanks to Sam who has raised nearly £40,000 towards the development of the new RDA Lowlands Training Centre.  Here is Sam's lovely narrative of the day:
18 West Mercia Region at Little Chase Farm and Lowlands
For our last Big Ride it was great to be finishing at Lowlands, as so many RDA members and supporters across the UK have joined Big Rides to help our National Training Centre become a reality there.
The day started with Pat Sansome welcoming 16 riders for a longer ride across her lovely Little Chase Farm a few miles away from Lowlands. This was led by Keith Arnold a master of the Warwickshire Hunt and married to county coach Karen. He soon had us cantering across a recently cut maize field and I was grateful to be on a beautiful grey hunter kindly leant by High Sheriff Mark Davies, who came to the end of the ride to present rosettes. It was great to get a chance to ride with volunteers from Centre of England RDA Group and with Lottie Dronfield from National Office. Lottie has done a brilliant job supporting the Big Ride project and making sure that we had enough rosettes as the number of people taking part topped 800!
County Chairman Rosie Featherstone-Dilke was soon organising for us to move onto Lowlands, where there was a buzzy atmosphere and lots of people helping to get ready for the shorter ride. The sun shone on us as 3 riders from Stratford Group and 3 riders from Lowlands Group accompanied by dozens of volunteers on foot and some National Office staff set out for a scenic ride across the fields. Meanwhile 6 Fen End Group riders were showing their regular RDA session to supporters and VIP's gathered in the gallery. Lord Lieutenant of Warwickshire Tim Cox presented rosettes to all at the end and it was lovely to see this line-up joined by regular Lowlands rider Dawn McBride.
While Fen End riders went to get more riding in the outdoor arena and make the most of the good weather, final Big Ride statistics were celebrated over a glass of bubbly:
818 people taking part, going 2659 km on horse and 1258 km on foot!
The money is still being collected and is heading for £40,000 a tremendous and very worthwhile team effort from all involved!
This was a great day and wonderful to see how much riders enjoyed riding out. This included Stratford Group rider Max Stainton who will be taking on a much bigger challenge of his own when he rides to Everest Base Camp next year.
Lowlands rider Erica summed up 'I have enjoyed today because the whole yard has been pulling together and different RDA Groups have come together. It feels like the RDA community is joining together and we are one big RDA family'.
Sam's fundraising page is to remain live until the end of December so if you would like to donate towards Sam's RDA BIG RIDE in aid of the new RDA Training Centre please click here