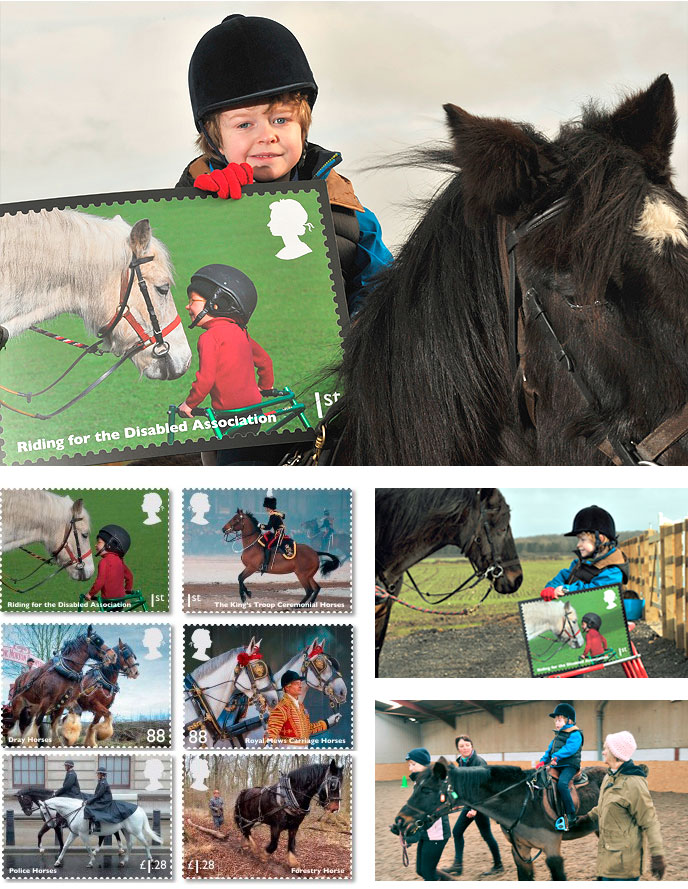 Riding for the Disabled Association (RDA) features on a new set of Royal Mail stamps as part of a collection called 'Working Horses'. The pony (Thor) and young rider from Epsom RDA sit alongside The King's Troop Ceremonial Horses, Drays, Forestry Horses, Police Horses and the Royal Mews Carriage Horses. Released in February, the stamps highlight the variety of roles that horses still play throughout the UK.
"We were delighted when Royal Mail approached us about this project," said RDA Chief Executive, Ed Bracher. "Portraying the work of our horses and ponies as part of this series is a fitting acknowledgement of the loyal service they deliver and the vital therapy they provide to our riders and drivers."
The chosen RDA image features a girl from one of Epsom RDA's school groups, standing with the support of her walker as she gazes with a huge smile into the kindly face of Thor, one of the Group's most popular ponies. "It's a really lovely image," said Stella Milne, Chairman of Epsom RDA. "They have managed to capture the bond that exists between rider and horse – and of course the fact that it's one of our riders is particularly special."
Andrew Hammond, Royal Mail Stamps, said: "Throughout human history, the horse has often been at the centre of events. Today the horse still contributes greatly to society, from practical and recreational uses to the leading ceremonies of state. Royal Mail is delighted to mark the contribution working horses make to British life."
The stamps are available from 4th February online at www.royalmail.com/workinghorses, by phone on 08457 641 641 and in 10,000 Post Offices throughout the UK.