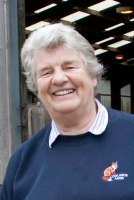 Ro first became involved with RDA in the early 1970's and was one of the co-founders of the Newbury RDA Group. Ro has been the Stratford upon Avon RDA's County Instructor for nearly 20 years.
She was the Trainer for the first Paralympic Dressage Team in Atlanta in 1996.
She has been a prominent member of the RDA Horse & Pony Welfare Committee for several years and a member of the RDA National Training Committee.
Ro and Lowlands Farm put on "The Wizard of Oz" at the Horse of the Year Show 2002.
She has also been one of the Co-Ordinators for the "Ride in the Country" discipline at the RDA National Championships at Hartpury since 2005.
A very deserved award, congratulations Ro.