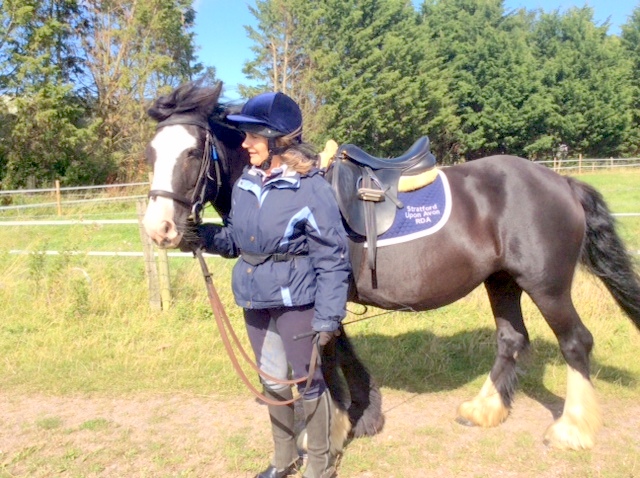 Jill with Keira at the end!
The Kineton Fun Ride held on Sunday 17th August was a great success.  A staggering 226 horses entered, including our RDA ponies Badger, Meg, Keira and Marco ridden by our volunteers Liz, Jas, Jill and Ann.  There were no accidents and the weather was almost perfect.  The horseboxes kept coming until just before 2pm.  The jumps were busy, especially the steeplechase course at Grange Farm and it was lovely to see riders enjoying the day by picnicking in the sun when they returned.
The event was held on behalf of the Stratford upon Avon District Council Chairman's Charities of which we are one for this coming year.  The Chair is Simon Jackson, husband of Liz one of our volunteers.
We had lots of lovely compliments about the course and the organisation so we would like to say a huge 'WELL DONE' to Liz, her friends and family, Bronwen and Richard, Grange Farm's owner and our own RDA volunteers and riders who made it such a success.
We would also like to thank the partners of the Avonvale Veterinary Practice in Ratley who sponsored the rosettes and numbers.
A big THANK YOU to all of you who gave up so much of your time stewarding and manning the refreshment stall , including our rider, Neil, at our venue, Home Farm.  Also, thank you to those of you who provided bottles and jars for our Tombola stall which our rider Holly enjoyed helping on with Marie.
We cannot tell you at this time how much will be donated to our Group as this is early days in SDC Chair Simon's year in office so we wish him well in his fundraising efforts for the coming months.
If you took part and would like to view photos from the official photographer go to DJM Country Images