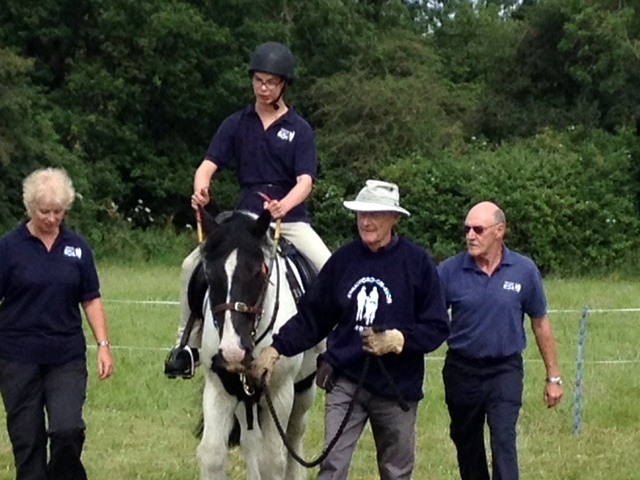 With shiny coats, clean tack & new, embroidered saddle cloths, Marco, Badger & Kiera looked very smart and received lots of compliments throughout the day. The ponies were kept busy with seven of our riders attending the event, including first-timers Jules, Lewis & Scarlett.
Everyone took part in the Handy Pony course, with some high scoring rounds. Many congratulations to Matthew A & Jules who were well deserved joint winners of the senior class. Well done!  Jo P rode Kiera and produced a consistent round to achieve third place, and Holly and Badger put in a very good performance, especially trotting, to win a fourth rosette.
In the junior class Scarlett thoroughly enjoyed her round on Marco and completed all the activities with enthusiasm, supported by her helpers, and was rewarded with a 7th rosette.   Lewis showed excellent steering & control on Marco, to win 3rd rosette.   A fantastic result at his first attempt!   Arthur's effort and determination was rewarded with a 5th rosette.  His trotting and final salute particularly impressed the judges.
All our riders also enjoyed gymkhana games in the outdoor arena, which involved some helper participation too!
Jules & Matthew proved their knowledge of grooming & looking after ponies by taking part in the stable management quiz.   Jules scored a perfect 10 naming parts of the bridle.  Brilliant!
The day was rounded off with a picnic & prize-giving, when our riders proudly collected their rosettes. (Except Jo, who insisted the rosette was bought to her!). It was lovely to welcome along so many parents and supporters, to share in the achievement and enjoyment of our riders. It was also an opportunity for us all to thank Rosemary Stretch, ex County Chair, for her many years dedication to RDA in Warwickshire.
Special mention must go to Marco, Kiera and Badger. They were very busy all morning and behaved perfectly.
Last but not least many thanks to all our helpers. Whatever the occasion, Team Stratford swings into action like a well-oiled machine, ensuring our riders have a happy and memorable day. Thank you, it wouldn't happen without you.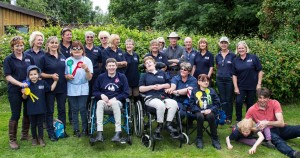 Karen – June 2014